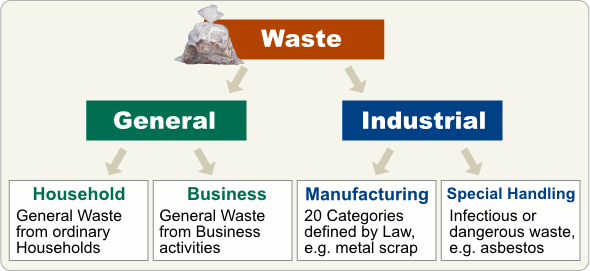 In accordance with the Waste Management and Public Cleansing Law, waste is separated into General Garbage, and Industrial Waste. Furthermore, General Garbage is separated according to whether it comes from private households or businesses.

Household Waste
General Waste from ordinary households.
Business Waste
General Waste resulting from Business activities, not including Industrial Waste.


Combustible
Paper, Kitchen Waste, Textiles, Wood, Bamboo, Some Plastics
Incombustible
Rubber, Metal, Glass, Ceramics, Miscellaneous Items, Some Plastics

Large Waste
Home Appliances such as Refrigerators, Televisions and Washing Machines.(*),
Furniture like desks and cupboards,
Bicycles,
Tatami Mats, Kitchen Tools etc.

The Law establishes 20 categories of waste such as Waste Paper, Metal Scrap, Waste Plastic etc.
(1) Cinders (2) Dirty Mud (3) Waste Oil (4) Acid Waste (5) Waste Alkali (6) Waste Plastic (7) Wastepaper (8) Wood Shavings (9) Fabric Scraps (10) Animal or Plant Waste (11) Solid Waste from Animals (12) Rubber (13) Metal Scrap (14) Glass, Concrete and Ceramic Waste (15) Ore (16) Broken Concrete etc from construction or demolition (17) Animal Excrement (18) Animal Bodies (19) Dust and Soot (20) Waste treated for disposal (Government Ordinance on waste matter, Article 2 Number 13)
(*)Please note that we do not handle goods subject to the Home Appliance Recycling Law.
(We are in the process of applying for the appropriate licence)
To the Top of this page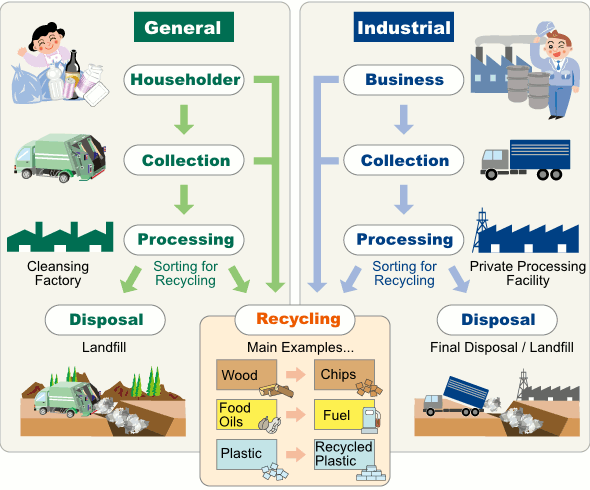 To the Top of this page

■ Food Recycling Law
Obliges food-related businesses to reduce food waste, and recycle to fertilizer or animal feed.
■ Containers and Packaging Recycling Law
Manufacturers of paper and plastic containers and wrapping materials, as well as the manufacturers of package contents, retailers, wholesalers, are obliged to pay for the recycling of their packaging after use.
■ Construction Recycling Law
Requires Civil Engineering and Construction Contractors, Building Contractors, and Demolition Companies to separate and recycle waste.
■ Home Appliance Recycling Law
Manufacturers of Televisions, Air Conditioners, Washing Machines and Refrigerators are required to pay for their recycling after use.
■ Motor Vehicle Recycling Law
Manufacturers of Motor Vehicles must pay for their recycling and appropriate disposal on behalf of the vehicle's owner.
To the Top of this page

When dealing with Industrial Waste, we are obliged to issue a Manifest to document certain details required by law, prior to disposal.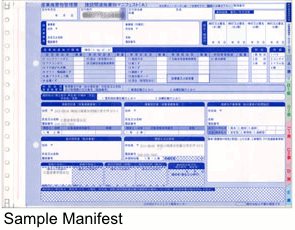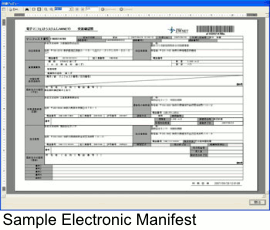 To the Top of this page